Which is a delightful surprise on this day, this day when my air conditioner in my car has suddenly stopped working. When it is broaching 100 degrees. When I have to tote my two children around. In a car. With no air. *sigh*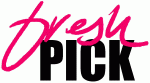 July 22, 2010
Fresh Picks
are very cool because as the folks at Fresh Fiction say:
"The Fresh Pick is chosen by a group of readers and is never a purchased advertisement or promotion. We've chosen your book because it appeals to us and we like to share our diverse tastes in reading and hope other readers will give it a try."
So heres to a little awesome today to balance out the not-so-awesome. The universe giveth and the universe taketh. Or something like that. ;-)
And thanks to the folks over at Fresh Fiction!!